Classification of varieties
Tea plant is botanically classified as belonging to the family Tea (Theaceae), to the genus Tea (Tea) and according to morphological characteristics is divided into two types: Chinese (Thea Sinensis) and Assamese (Thea Assamica).
By technological characteristics, tea is divided into:
Not soluble - white, green, yellow, red, black, pu-erh - which in turn are subdivided into:
sheet, granular (CTC), extruded:
leaf tea according to the size of the tea leaves are divided into: whole leaf, broken, seeding (fannings), crumb (dust)
granular tea according to the size of the tea leaves are divided into: broken (broken), seeding (fannings), crumbs (dust)
Instant teas, which are divided into: liquid concentrates, dry powders, agglomerated and sublimation.
Tea Production Technology
All types of tea are made from freshly picked green tea leaves using various technologies. Schematically, this can be represented as follows:
White tea: wilting / drying,
Green tea: fixing, twisting, drying, sorting
Yellow tea: wilting, fixing, curling, drying, sorting
Red tea: wilting, curling, fermentation, fixing, curling, drying, sorting
Black tea: wilting, curling, fermentation, drying, sorting
Puerh: withering, curling, fermentation / fermentation, pressing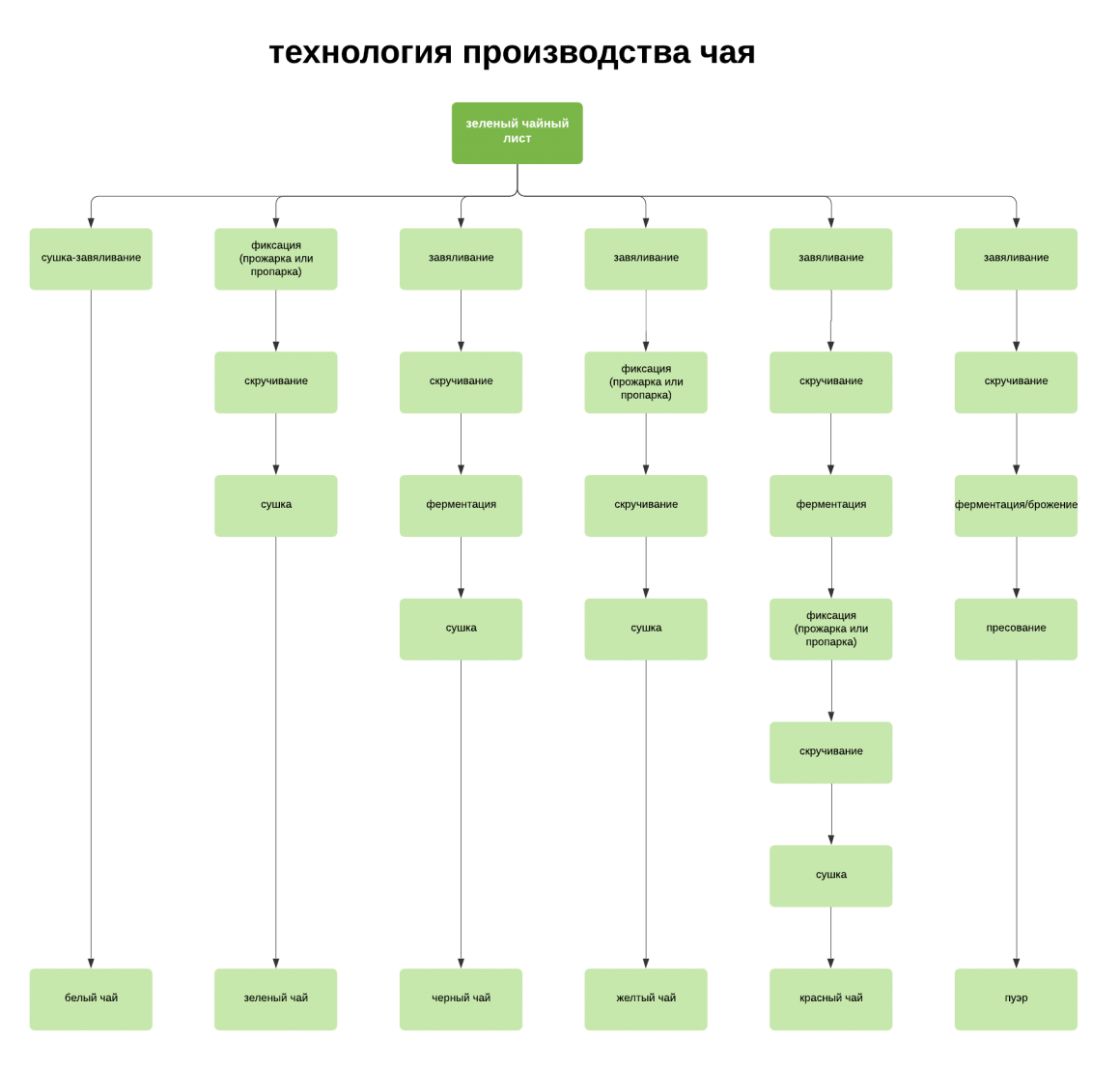 Sorting and blending of tea is a separate process performed both in primary and tea-packing (packaging) industries.
Tea marking, such as for example: OP, BOP, TGFOP, GBOP, BOPF, PF and similar abbreviations, is carried out in primary productions after sorting and allows tea traders (for example, brokers, at auctions) to pre-judge the size of tea leaves.
For the production of soluble types of tea, insoluble tea, ready to use, is used as raw material. The production technology of instant tea is similar to the production technology of instant coffee:
Liquid Tea Extract: Extraction, Filtration, Concentration
Powdered tea: liquid tea extract, spray drying
Agglomerated tea: tea powder, agglomeration
Freeze-dried tea: liquid tea extract, freeze-drying
The main countries producing tea are listed below.:
China, India, Kenya, Sri Lanka, Vietnam, Turkey, Indonesia, Japan, Argentina, Bangladesh, Uganda, Malawi, Tanzania, Myanmar, Iran, Taiwan, Rwanda, Nepal, Georgia, Azerbaijan, Zimbabwe, Papua New Guinea, Russia, Congo / Zaire, Mauritius, Mozambique, South Africa, Brazil, Ecuador, Peru, Australia
Пprinciple of trade
Tea is an auction item traded in major auction centers in tea-producing countries - Colombo (Sri Lanka), Kolkata (India), Guwahati (India), Coonoor (India), Mombasa (Kenya), Jakarta (Indonesia). There are no auction centers in China, but there are large specialized tea markets.
World tea production by major countries
| Manufacturer country | Volume of production, tons |
| --- | --- |
| China | +2 700 000 |
| India | +1 389 700 |
| Kenya | 458 853 |
| Sri Lanka | 300 134 |
| Turkey | 253 000 |
| Vietnam | 158 000 |
| Indonesia | 128 800 |
| Japan | 81 700 |
| Argentina | 77 000 |
| Other countries | 711 956 |
| TOTAL | +5 752 783 |
according to 2019
Top 5 Tea Exporting Countries in the World
| Manufacturer country | Export volume, tons |
| --- | --- |
| Kenya | 496 755 |
| China | 380 000 |
| Шри Ланка | 289 586 |
| India | 248 290 |
| Vietnam | 122 000 |
according to 2019
Top 5 tea importing countries in the world
Manufacturer country
The volume of net imports
minus re-export, tons
Pakistan
205 096
Russia
144 000
USA
117 177
England
104 117
Egypt
98 100
Iran
79 200
according to 2019